Shawn J. Dowe prayed for a day that he could give his mother a graduation certificate. He said he's been thinking about it his whole life and feels that with prayer he manifested the whole thing.
After dropping out of school in the 9th grade at 14 years old so he could work and help take care of his mom and 3 siblings, he would see the kids that he went to school with, later on graduate from high school and college and think to himself "dang their mom's must be so proud of them" and at times he would feel selfish for not giving his mother the privilege of being able to see him accomplish something that he thought all parents dreamt of, their child finishing school…
Thank God For Inner City Capital Connections (ICCC). "Even though I later ended up getting my ged with a very high score and almost joined the United States Air Force around the same time that September 11 happened, I still felt that going to college for business was supposed to be in God's plans for me. I know that some may feel like an ICCC graduation couldn't compare to actually getting a bachelor's degree from an Ivy League school but the amount of knowledge and resources that ICCC was able to give me in such a short amount of time I feel it was good enough because I was able to learn so much from the kind and smart people that had the privilege to be able to attend and finish college. Being the oldest of 4 kids to a single mom, dropping out of school at 14 years old seemed like the most logical thing to do at the time. Marilyn Monroe said sometimes good things fall apart so better things can fall together," and that was my motto."
Shawn thought that if he could maybe let things fall apart now, at 14, that he could potentially make things better for himself, his mom, and his siblings by going out and hustling and working as much as he could.
Entrepreneurship: "I always knew I wanted to work and have my own money, I guess I learned that at 7 when I started cleaning our landlord's house. At times I hated it, she was a nice old lady but at times would only give me one single dollar and a snack but I felt I was worth more lol, so I moved on (still helping her from time to time because my mom would make me, plus I liked Mrs. George) to washing cars around the neighborhood for $5 a piece. I remember stealing my mom's dishwashing liquid, a rag and borrowing a friend's bucket (that friend ended up being my first employee) to carry water up and down the hills in St. Thomas, asking neighbors if they needed their cars washed. It was heavy, but I knew I needed to have the water with me at all times just in case I got a YES, I would be ready to start right away. Most times I think I left the vehicles dirtier than I found them lmao because the water would spill while trying to haul it up and down those hills looking for clients, but the customers would still pay me anyways because they see me trying. They knew I didn't have enough water to wash a whole vehicle but I guess I had a nice smile and they see me trying at a very young age so they helped me anyways. Thinking back now, I know that they must have immediately went to the car wash after I was done to get it properly cleaned. $5 a car in the early 90's was a lot of money to me. I was able to buy kool-aid and bread and cheese, and to me that was enough for our small family to survive if my mom fell short at times that month."
Fast Forward: "After being around the wrong crowd and hearing a calling from God, my wife and I moved to California with our youngest daughter and fell on hard times after a few mistakes and misfortunes. Luckily 2 great men Jerome Horsford (my little brother) and Jose Lima, borrowed my wife and I some funds to start our business, our baby, www.acehairextensionsco.com
After starting www.acehairextensionsco.com
I would like to tell you that we made a million dollars the first year but I would be lying. What happened was that we were learning what it takes to be an entrepreneur while caring for a beautiful baby, and boy it was hard. We would have small wins but the wins never seemed like enough to get us by or into the green, and there were times that we didn't have enough to eat and would share food samples that we got from the local mall.
Later on I found out about ICCC through someone that I thought was a friend and cared about my well being, but that was simply not the case, but, I googled them anyways @ www.icic.org and what immediately sparked my interest, and got me excited was when I found out that ICCC works with small- and medium-sized businesses from under-resourced communities across all industries, with a focus on supporting BIPOC-, women-, veteran-, and immigrant-owned businesses so nevertheless I thank that person because after he spoke about ICCC I dug deeper and was able to connect with someone that was very nice and answered all my questions and concerns (I wish I could remember his name)."
For those that don't know, Inner City Capital Connections (ICCC) is a tuition-free executive leadership training program designed by the Initiative for a Competitive Inner City (ICIC) to help business owners in under-resourced communities build capacity for sustainable growth and resiliency.
The ICCC Program is divided into four components designed to maximize the participant's experience and accommodate their busy schedules.
The 4 parts are Opening Seminar, Digital Learning Services, Individual Coaching, and the Annual Conference which brings together participants from across the country to build strategies of resilience, sharpen their capital pitch, and connect with a growing network of like-minded entrepreneurs and capital providers.
"There are so many people that yearn to do what's right and desire to be entrepreneurs that look like me, that feel like me, that are me, that are seeking guidance and help with growing their business, but don't know where to turn or how to start, and I'm living proof that if you are willing to show up, listen, and put in the work while having fun, at ICCC you can learn and do so much to excel your business plans but most importantly your way of thinking, while meeting some amazing people along the way.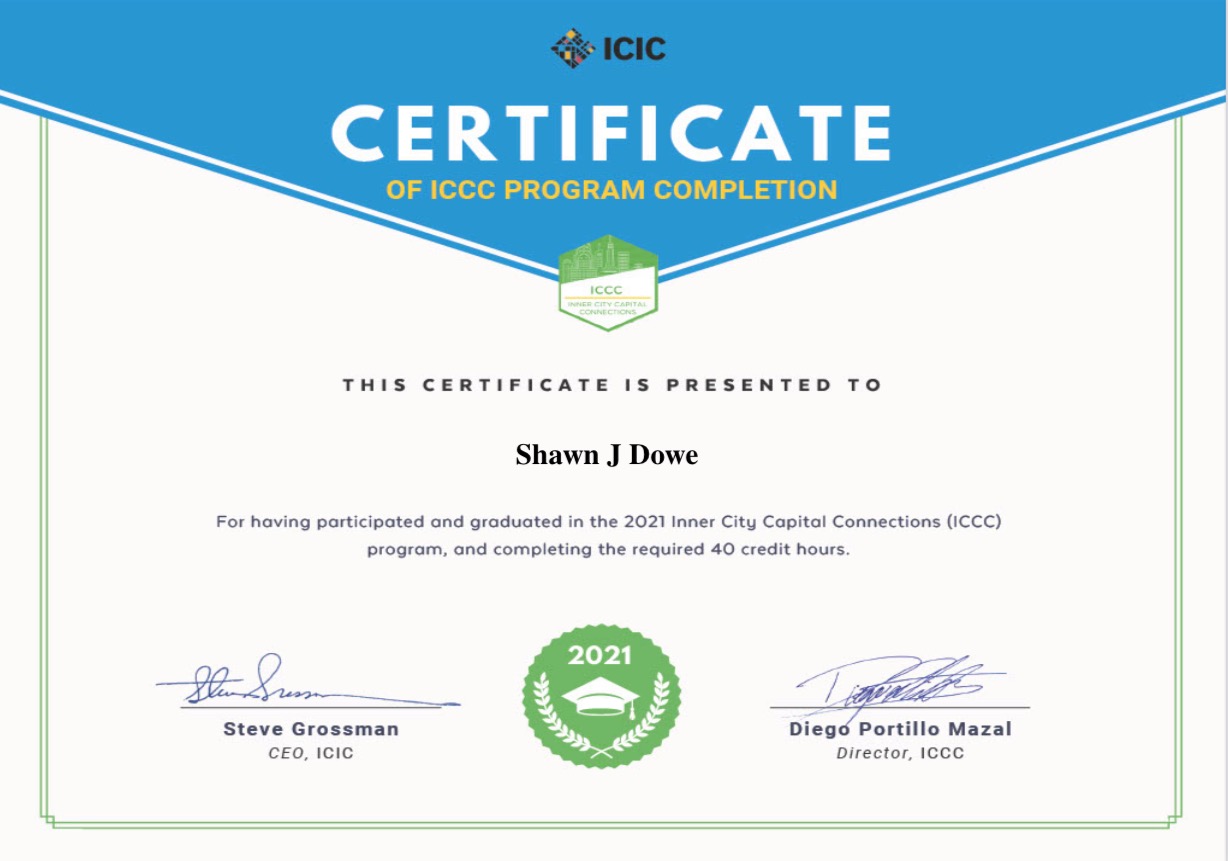 There are many things that I've learned from https://icic.org/about/ but here is one thing that I'd like to share with you, I've learned that in business you are to solve problems and have a genuine love for helping others. Don't create problems just solve them, and really seek to serve, and better yet solve your customers problems better than the competition.
There is so much more to http://www.icic.org/I pray that you can get the opportunity to check them out if you really have the desire to be a successful entrepreneur or person in general.
I'll be forever grateful to ICCC, and I'd like to send a special thank you to Marynee Pontes, Steve Grossman, Maria Tata, and Diego Portillo Mazal, your program and dedication has made me and my fellow Alumni's better, and I was finally able to hand my mom a graduation certificate for something I feel I was born to do, Business. I love you more than I love myself Lorma Maria Horsford, aka mommy." Thanks for always being there for me.