Here we will discuss Amla oil, its manufacturing at home using Amla powder and Indian Gooseberry alongwith its benefits for hair.
Amla Oil:
The fruit extract of Indian Gooseberry or Amla fruit is used to make Amla oil, a natural hair tonic. It claims to aid with a variety of hair issues, including itching scalp, hair loss along with keeping your hair lustrous, moisturized, hydrated with stimulated growth. The oil is widely present in the market and it has a lot of fan following.
The majority of consumers do not verify the product they are purchasing, particularly the ingredients section. Although being natural, Amla oil, just like other products, might include chemicals such as dyes, Paraffinum, perfumes, and Silicones. Such toxins not only have an adverse effect on your hair, but they can also make it damaged and dry.
So, the easiest solution to cope with such issues is to either purchase Amla oil that is chemical-free or prepare your own oil at home.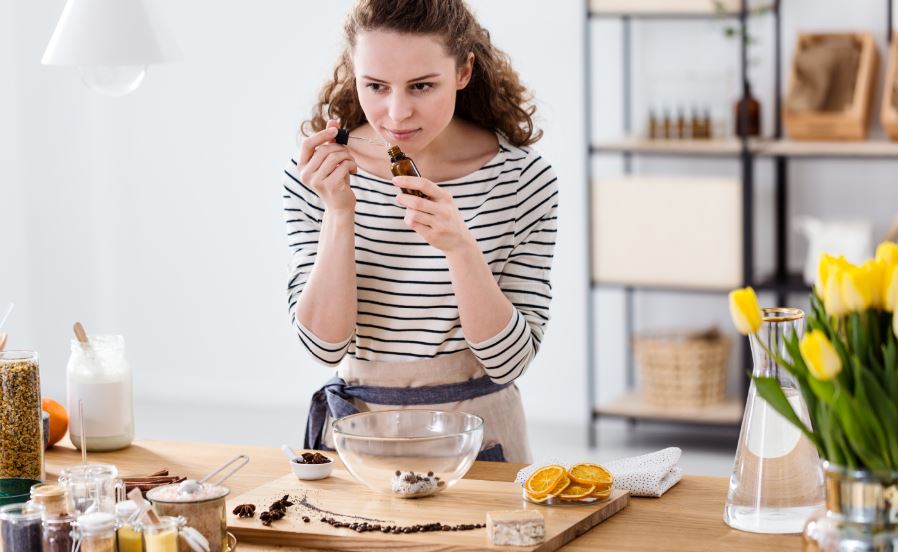 Ways to make Amla Oil at home:
Follow the given instructions to prepare your own oil at home:
By using Amla powder:
Amla powder is used as one of the the simplest methods to prepare amla oil at home. The best reason to use amla powder is that it is prepared from powdered amla fruit that is purely organic and natural.
Castor oil may be combined with it for the best results. You may also substitute sesame oil, coconut oil or any other oil of your choice.
Components:
Amla Powder (100g)
Castor oil (8 to 10 teaspoons
Water
Water bath or a Double boiler
Wooden spoon
Procedure:
We will make Amla oil from a method called Steam distillation
For this, you'll require 2 pots
Pour water into one pot and boil it
Add Amla powder for hair and castor oil to the other pot and place it on top of the first one
Mix them until the powder is dissolved completely
As needed, put in more oil or powder to get the desired thickness
Turn off the flame and set the mixtureaside for 10 to 15 minutes to allow it to cool
Filter the mixture when the time has passed and collect the filtered oil in a jar
How to apply?
Before you use the product, make sure your hair is clean
Apply a little amount of Amla oil to your hair and massage it thoroughly
Allow the oil to soak into your scalp with your fingertips
Allow the mixture to sit on your hair for 40 to 60 minutes
Use a sulfate-free shampoo and conditioner to wash it out
Apply this remedy three to four times a week
By using Indian Gooseberry:
Making Amla oil from the actual fresh fruit is more favorable than any other method. Although this method appears to be the best, acquiring Amla fruit in fresh form might be difficult, particularly when you live outside the continent of Asia.
You can follow the given recipe if you have availed some fresh Amla fruit.
Apparatus required:
4-5 Amla fruits of average size
Pan with a heavy bottom
Heavy-bottomed pan
Wooden-spoon for stirring
Procedure:
Amla fruit must be cut into small pieces
Grind the fruit in the chopper until it becomes a paste
Pour the paste into a pan
Putt in 3 to 4 teaspoons of coconut oil in the pan
After adding the Amla paste to the pan, mix well for 6 to 8 minutes
To prevent water vapors from entering, uncover the pan, as it reduces the lifespan of the Amla oil
Turn off the burner and leave the mixture to cool for almost 10 mins
After 1-2 minutes, start mixing to ensure the mixture doesn't stick to the pan
Place the oil in a container after straining the mixture
The remedy is ready to use
How to apply?
Simply apply the oil to your hair and leave it for 30 minutes
Rinse it out using a sulfate-free shampoo and conditioner
This procedure may be followed at least twice a week
Cautions while boiling the oil:
Allowing the oil to boil or even simmer is not a good idea. Within about 5 minutes, you'll see that little bubbles are emerging in the oil. Take the oil away from the heat as soon as this occurs, cover the pot, and let the oil to soak.
Common benefits of Amla oil for hair
Amla oil may provide the following advantages for hair and scalp:
Decreases early hair pigment loss, or graying
Increases the strength of hair and scalp
Enhances hair growth
Prevents hair thinning and loss
Tackles with dry scalp and dandruff
Infections of the scalp and hair caused by parasites, such as lice, can be treated
Cures bacterial and fungal infections of the hair and scalp
Enhances hair's visual appearance and gives it a shiny look
Side effects of Amla oil:
Amla oil isn't known to have any negative effects. However, in certain situations, Amla oil has been reported to cause scalp irritation and inflammation in some persons.
How long should Amla oil remain on the scalp?
Over the palm of your hand, put some amla oil. It should be massaged on your hair and scalp. Put on a shower hat to keep your hair out of your face. Allow up to 15 minutes for it to perform its function.
Is it safe to apply Amla oil on a daily basis?
Amla oil can be used on the hair and scalp up to twice a week. A short patch test should be performed to test for sensitivity before introducing it into weekly usage.
Can Amla oil affect the color of hair?
Because Amla oil improves pigmentation, your hair color might become dark and that is a good aspect.