Essay writing might be seen as something complicated and complex. Especially when you see a long requirements list, you might start feeling stressed. Even though all these written tasks might overwhelm you at times, completing them will help you improve your skills. 
But you also want to make a good impression on your teacher and to prove that you have the skills necessary to get a good grade. College professors might be picky and have high expectations. So, you need to improve your essay writing skills so that you deliver a powerful essay. Here are five tips that will help you craft an incredible paper. 
Read the requirements carefully 

Read books 

Research and take notes 

Find the perfect hook 

Save time for editing as the first draft will not be perfect
Read the Requirements Carefully 
One of the major mistakes students make is not reading the requirements and guidelines list carefully. Many of them see this list as a constraint list or one that overwhelms them because of its length. However, it provides key information to any student. It states clearly what you have to do. 
You will find out more about the topic you need to write on or if you can choose it within a given theme. You need to be careful how you are asked to approach specific subjects. For example, you might need to analyze a topic or explain it. 
Also, you will find information on the length of the essay, word or page limit, or its structure. These are some crucial details you need to be aware of, say expert writers from Rush My Essay. They will guide the entire writing process. 
Read
Some students might be looking for fast ways to boost their writing skills. While there are some techniques you can use to structure your essay better, there is no magical formula that boosts your skills from day to day. 
This is a process that takes time and practice, so it's important to invest your time in activities that help you hone your writing skills. And reading is one of them. Reading boosts your creativity, enlarges your knowledge and vocabulary, and helps you find your personal style. Reading molds your unique writing style and boosts your essay writing skills tremendously. 
Research and Note-Taking 
One of the most important phases in the writing process is research and note-taking. When you need to analyze a subject or explain a topic, you need information on the topic. You may need to argue in favor of an idea, and for this, you need facts, stats, or other details that support your point of view. But these need to come from high-authoritative sources. 
Use Wikipedia as a starting point for your research, as you find many references there. But avoid citing it or including it in your bibliography. Take the information you find there with a grain of salt, as anyone can edit it. Inform from scientific journals and authorities in the domain. You will read a lot of materials on the topic, so make sure you take notes. It will be helpful for the next steps. 
Hook the Reader 
College professors read thousands of essays each semester. To get a good grade, you need to follow the requirements but also write a compelling paper. There are some tricks you can use in your writing to hook the reader and convince it to read your essay till the end. 
One of these techniques is to include in the introduction part a piece of information, a fact, or some stats that surprise the reader. It can be a common misconception or an incredible fact that few know. 
Or, you can ask the reader an intriguing question you offer the answer to below. Find the right hook for your essay topic. Expert writers from essay writing services say that you can easily adapt the hook to the essay requirements, but also your research. Maybe the notes you took will be of huge help. 
The First Draft 
Many students expect to create an amazing first draft. But this rarely happens, no matter how talented you are or how good your writing skills are. The first draft might have errors, typos, and some sentences might need rephrasing. 
It is important to write the essay as you feel it and save time for editing and proofreading afterward. Many students write their essays when the deadline is approaching, so they do not have the time they need to edit the draft. 
Final Thoughts 
Looking to improve your essay writing skills? Well, aside from continuous practice, you could apply some techniques to create a compelling paper. Make sure you read the requirements and guidelines carefully. Gather information from high-authoritative sources and take notes on the go. 
This will help you structure your essay logically and coherently. Find the perfect hook for your topic and introduce it in your introduction section. Do not expect the first draft to be perfect and save time for editing. Read to improve your writing style, expand your vocabulary, and enlarge your knowledge.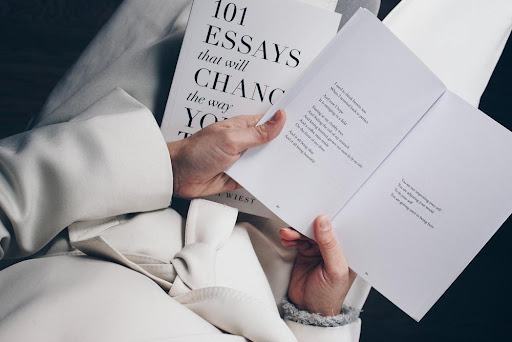 Image source: https://images.unsplash.com/photo-1517849443514-73aa552d55bd?ixlib=rb-1.2.1&ixid=MnwxMjA3fDB8MHxwaG90by1wYWdlfHx8fGVufDB8fHx8&auto=format&fit=crop&w=1770&q=80