Top 10 Most Expensive Laptops in the World
Using laptops has recently become very common but important among people in different countries around the world. They are used by different age groups and for different purposes such as studying, gaming and business affairs. The best thing about laptops which makes them spread quickly among people is that they can be easily carried and transmitted to anyplace to be used at anytime.
Sometimes, laptops are considered as a sign of the luxurious that others live, so there are some people who seek for possessing the most expensive laptops in the world to show that they are wealthy. The expensive laptops have many features such as being fast, efficient, well-designed, stylish or made of precious materials. Here are the Top 10 Most Expensive Laptops in the World compiled by Fabulaes.com
10. DELL M6400 – $ 3,000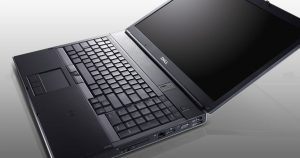 SPECIFICATIONS:
Memory – 1 TB.
Processor – Intel Core 2 Duo Quad-Core
Graphics – ATI® FirePro® and NVIDIA OpenGL FX Graphics.
Display – 1920×1200
Weight – 3.88 kg
The Dell Precision M6400 Mobile Workstation ignores rules and breaks new ground in mobile workstation performance. Intel Core 2 Duo Extreme Edition Quad-Core Processors combine with massive memory scalability and NVIDIA OpenGL graphics technology in a stunning 17″ chassis to target the ultimate in certified application performance.
This highly advanced new mobile workstation was designed from the ground up to deliver world-class graphics and CPU performance for running highly complex professional applications. It is a certified mobile workstation that will manipulate complex, creative designs with ease. The M6400 brings high-end mobile workstation performance to a new level with a stunning, high resolution, bright display that will bring your creative work to life. Work at the speed of thought.• Number crunching horsepower with next-generation Intel Core 2 Duo Processors and Intel Core 2 Duo Extreme Edition Quad-Core Processors up to 16GB3 of high bandwidth dual-channel 1066MHz DDR3 memory. High performance, optional RAID, and storage up to 1TB4 with dual internal hard drive bays. Sleek aluminum chassis with optional edge-to-edge glass with 100% Adobe® color gamut support. Taking advantage of the Intel® Q43 chipset technology enables excellent system scalability and performance. All of this in a mobile workstation starting at just 8.54 lb.5 (3.88kg) helps deliver stunning desktop replacement performance in a mobile package.
The latest Dell Precision Mobile Workstations are part of the Dell™ E-Family product line. The Dell Precision Mobile Workstations are compatible with all E-Family accessories, including port replicators, notebook stands, display and monitor stands, and external storage modules. The E-Family product line also offers DisplayPort technology, allowing the user to connect to a variety of different display devices with a single DisplayPort. The Dell Precision product line is built tough with magnesium-alloy chassis and display backs that meet rigorous standards for durability. Optional features include fingerprint reader, 2-megapixel camera, dual array microphones, jog shuttle, and solid state drives.
Dell is the world's leading workstation vendor6 and partners with strategic Independent Software Vendors (ISVs) to certify system and application compatibility so that your applications can run gracefully on Dell Precision Workstations. Through rigorous testing, Dell also targets guaranteed compatibility and optimized performance in demanding work environments such as Computer Aided Design (CAD), animation, engineering, and architecture, making the M6400 an exceptional platform for extremely demanding workstation users who need to be mobile.
9. LENOVO THINKPAD W700DS – $ 4,500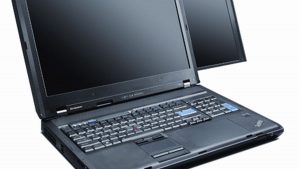 SPECIFICATIONS:
Memory – 128 GB.
Processor – Intel Core 2 Extreme QX9300.
Display – Primary – 17 inches. Secondary – 10.6 inches.
Weight – 5 kg
It is one of the best and most popular laptops as it has a built-in quad-core processor and it also features 4GB RAM which gives you high performance that you look for. It is sold on for $4,500 to be the 8th most expensive laptops on our list.
Not only in the gaming sector but also in professional CAD/CAM applications does performance play an important role. Obviously, the performance-independent expectations of users on an adequate notebook differs considerably from gaming devices, which is why the leading business notebook manufacturers have their own series for this target group in their repertoire.  The Thinkpad W700 with a Quad-Core CPU and Quadro FX 3700 graphic is the flagship device from Lenovo.
After the test of the Lenovo Thinkpad W500, the little brother of the W700 in a 15.4 inch format, equipped with ATI FireGL V5700 graphic and Intel Core 2 Duo processors, we also finally had the pleasure to check out the 17 inch workstation series very closely.
Up till now there are two model variants available, aside from the individual configuration possibilities of the single hardware components. On the one side the classic workstation labeled W700, optionally equipped with an integrated Pantone Color Display calibrations device or an integrated graphic tablet from Wacom and on the other a model with fold-out 10.6 inch additional display labeled as W700ds (dual screen).
The following review handles both models, the Thinkpad W700 as well as the W700ds, fully equipped with a graphic tablet, calibration device and an Intel Core CPU in connection with an efficient Quadro FX3700M graphic.
What, if not the currently most efficient components, would be awaited in a workstation like the Thinkpad W700? As a matter of fact, Lenovo isn't stingy with the W700 and offers the device with the strongest mobile components offered on the market at the moment. Of course, we accepted the offer thankfully and ordered a test sample equipped with a Core 2 Extreme QX9300 CPU and a Geforce FX 3700M, so to say the most exclusive and most expensive configuration variant of the Thinkpad W700.
The Core 2 Extreme QX9300 CPU from Intel can score especially with its four processor cores for multicore-optimized applications. The Cinebench R10 benchmark test shows this impressively, or more precise the Multi-CPU Rendering test.
The result of the system in the SPEC Viewperf benchmark also didn't really turn out magnificently, especially if you consider that the Quadro FX 3700M is supposed to belong to the efficient pro-graphic cards.
The frame rate in the visualizations of the single graphic applications in the test stayed on the level of the Quadro FX 3600M and partly under the performance of the ATI FireGL V5700 graphic card (Maya, Solid Works). The test results of the W700ds were on a similar level.
You will have to "accept" a 1920×1200 pixels resolutive WUXGA screen in the model variant Thinkpad W700. In the variant W700ds you come to enjoy an additional display, which with a diagonal of 10.6 inches (upright format) offers an additional work space of 768×1280 pixels. This could be especially interesting for graphic applications because you can, for example transfer the toolbox or different communication tools here and still have a complete display for the actual application.
The W700ds doesn't show any weak points whatever in consideration of stability. Even the hinges of the considerably thicker display turned out equally sized. They can keep the massive screen, including the fold-out display, in place – although you have to count with a slight possible flapping.
You have a bit more weight under your arm with the W700ds, which has a total weight of 5 kilograms.
8. ALIENWARE AREA 51 M15X – $ 5,000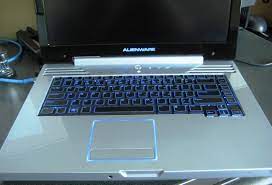 SPECIFICATIONS:
Memory – 200 GB.
RAM – 3 GB.
Processor – 2.8GHz Intel Core 2 Extreme X9000.
Display – 1920×1200
Weight – 3.56 kg
Another interesting gadget to personalize the m15x is the aluminum plate on the bottom of the notebook, on which up to 23 characters chosen by the soon to be owner, are engraved by laser. The text is translated into alien characters and also added to a foil which is put on the touch pad.
Ah yes, don't forget the well known alien face on the display lid, which is illuminated as well. It starts to pulsate if the notebook is put into standby mode, which is also called "breathing" by Apple. The Alienware m15x unfortunately fails to do this smoothly, so that it looks more like it is clearing it's throat.
The front and the back side of the notebook stay clear of connections. On the front right side of the notebook is a card reader (7in1) followed by an ExpressCard slot (54mm). Both slots are closed by well shaped flaps. Rubberplugs or plastic dummies are thus unnecessary.
Further back is a HDMI port, which allows a full digital transfer of image and video data. After that comes an USB 2.0 port and a Firewire 1394b (9-Pin) interface, which is a bit unusual for notebooks. Completely at the back is a Kensington  lock.
The left side of the m15x is occupied by the power supply, LAN port, two USB 2.0 ports and audio connections (microphone, earphones). All those ports were located at the back half of the left side, which concentrates various cables and prevents annoying cable tangle. The Area-51 m15x has thus not only an extensive enough interface equipment, but also very good alignment of the available ports.
Alienware currently offers two different displays for the 15.4 inch models. They differ in supported resolution and type of display surface. The choice is between a 1440×900 pixel WXGA+ display with ClearView technology (glossy surface) and a 1920×1200 pixel WUXGA display with matte surface and HD compatible resolution.
Our test sample was equipped with the high resolution WUXGA display (LPL1801) and was instantly loved because of it's non reflecting surface. This is unfortunately rare, since multimedia notebooks hardly ever offer matte surfaces. It is thus impressive that Alienware went against the common trend, and offers their high end display with an eye friendly surface.
Alienware praises the Area-51 m15x to be the first 15″ notebook with Geforce 8800M GTX graphics. This is correct, but it is very likely that other producers will follow soon. Clevo for example, exhibited a 15.4″ model at the last Cebit, which is planned to be equipped with a Geforce 8800 graphics card. We look forward to a direct competitor to the m15x, but it will play in a separate class until then.
The hardware of the Area-51 m15x reads like the wish list of a gamer to Santa Claus: nVIDIA Geforce 8800M GTX with 512MB GDDR3 video memory and Intel Core 2 Extreme processor with 2.8GHz and 6MB L2-cache are the fastest possible configuration of the m15x. This not only marks the top components of the m15x series, it is also the maximum possible performance of 15.4″ notebooks. No series notebook is currently available that matches the performance of the Area-51 m15x.
A first glimpse at the impressive performance gives the 3D Mark benchmark tests. 15805 points in 3D Mark 05 and 9217 points in 3D Mark 06, catapult the Alienware notebook to the top. Even the former top dog in the ranking, the Dell XPS M1530, has to content itself with the second place far behind the m15x.
Alienware makes with the Area-51 m15x a big step forward in the compact gaming segment. Somebody who is looking for high performance among 15.4″ multimedia notebooks will quickly notice a distinct lack of competition for the m15x .
7. ROCK XTREME SL8 – $ 5,500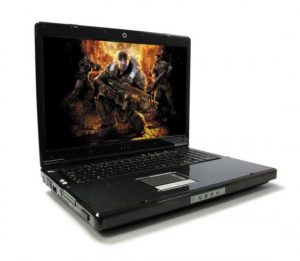 SPECIFICATIONS:
Memory – 256 GB SSD.
RAM – 4/8/16 GB.
Processor – Intel Core 2 Quad

Graphics – NVIDIA GeForce 9800M GTX SLI

Display – 1680 x 1050
Weight – 3.2 kg
One of the most powerful gaming laptop ever. The value in the market around $5,500. It is not just one of the most expensive laptop in the world, and it's also the fastest laptop that you can ever find thanks to the features that it has.
Based on the G92 core, but only with 96 shaders. The performance should be similar to the 8800M GTX. PureVideo HD supports decoding of HD Videos. Modern games should be playable with these graphics cards at low settings and resolutions. Casual gamers may be happy with these cards.
Processing power is also impressive. Given its size we wouldn't have been too surprised to find a Core i7 CPU inside, but Rock has stuck with mobile chips and gone for an Intel Core 2 Extreme X9100 (to get a Core i7 you'll have to go Rock's 790, which in turn doesn't support SLI). With two cores running at a blistering 3.06GHz, this is the fastest-clocked mobile processor in existence and, depending on the game, will actually give you better performance than the Extreme QX9300 with its four 2.53GHz cores.
The CPU is backed by 4GB of 1,066MHz DDR3 RAM. While this is plenty for most, it would have been nice if Rock allowed you to upgrade to more memory, especially considering the power of the rest of this laptop and the 16GB maximum allowed by the installed 64-bit edition of Vista Premium
Other niceties include a Full HD screen and twin 500GB 7,200rpm hard drives, but before we get too deep into the laptop's innards, let's take a look at the outside. On unpacking the beast, first impressions are a bit of a mixed bag. While undoubtedly chunky, its sleek lines help to streamline things somewhat. We also like the metallic highlights on the hinges, though they're not exactly a perfect match for the plastic silver strips running around the edges of the lid and base.
Opening the X840 SLI up, its insides are a fetching mix of mirror-finish and matte black. As with the lid though, they're unlikely to stay looking good for long, and we sincerely wish manufacturers would stop making palm-rests and touchpads glossy! Those who hate shiny bezels will also find little to like, although the border-less screen certainly adds a little style.
Other controls include a welcome button to turn the integrated webcam on or off, a 'slow' mode that will throttle down the machine for longer battery life, separate switches for Bluetooth and Wi-Fi, an Internet shortcut, and an equaliser button to alter the laptop's sound setup between the usual favourites like Rock, Pop, etc. Also present are a mute button and curved volume bar. Unfortunately, though above-mentioned controls all look okay, they're an absolute pain to use since they're about as responsive as a hibernating sloth.
Connectivity on this Rock is excellent. Along the left you'll find DVI and HDMI video outputs (a VGA adapter is also included), two USBs, a Gigabit Ethernet jackport, memory card reader, 54mm ExpressCard slot, mini FireWire port and Blu-ray drive. It's worth noting that this is one of the few options where you can actually save money on the Xtreme 840SLI-X9100.
On the other hand, the borderless 18.4in Full HD (1,920 x 1,080) screen is worthy of high praise indeed. For those who are not technically oriented, it's good – for the rest of you, let's examine why. The transparent layer does add distracting reflections, but if you can get past these it definitely adds a sense of depth and verve to colours without making them look oversaturated. There's also little sign of most of the traditional TN weaknesses. Horizontal viewing angles, for example, are distinctly above average, and there's almost no banding or backlight bleed present.
6. MACBOOK PRO IN GOLD – $ 6,000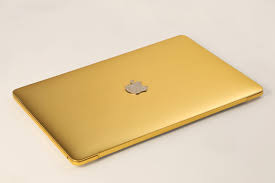 SPECIFICATIONS:
Memory – 4TB SSD.
RAM – 32 GB
Processor – 3.2GHz dual-core 10th-generation Intel Core i3
Display – 2,880 x 1,800
Weight – 1.83 kg
The MacBook Pro 15-inch 2019 has given Apple the win it needed when all the impressive Windows laptops have raised the stakes in the Ultrabook category. The 2019 update of Apple's popular line comes with its own new set of features like the much improved keyboard, as well as some incremental changes in its internals. And, it's given Windows users more than enough reasons to switch to macOS.
On one hand, the MacBook Pro 15-inch 2019 feels like an iteration of its predecessor – it has none of that massive redesign we've been waiting for, only more powerful specs. This is probably because Apple was saving the major updates for its MacBook Pro that came out shortly after, which is a little self-serving. On the other, it does have more powerful specs, which is a welcome boost for MacBook Pro owners with a 2017 or older MacBook. Sadly for newer MacBook Pro owners, however, there's not a lot of updates here to make it worth the upgrade, even if it is a bit cheaper. If you're one of them, you're better off with the 16-inch model.
If you've ever seen or used a MacBook Pro, then you already know what the MacBook Pro 15-inch (2019) looks like. The last time the series got a considerable design change was back in 2016 with the addition of the Touch Bar, and the 2019 model looks – at least on the outside – pretty much the same as the previous models.
This is great news for anyone who believes that the MacBook Pro aesthetic is pretty much on point. On the other hand, it will disappoint anyone who is looking for a fresh new look.
So, the MacBook Pro 15-inch (2019)'s dimensions are 13.7 x 9.48 x 0.61-inches (34.92 x 24.07 x 1.55), basically the same as last year's model, and is slightly smaller than MacBook Pros launched before 2016's refresh. The new MacBook Pro 15 also weighs 4.02 pounds (1.83kg) – which, again, is exactly the same as last year's model.
Color-wise, you're again restricted to the choice of merely two – Space Gray and Silver. Port-wise, you'll have four Thunderbolt 3/USB-C ports (two on each side of the laptop) as well as an audio jack port – a rarity on an Apple device these days. Another important thing to keep in mind about these benchmark results is that these numbers are for the maxed-out MacBook Pro 15-inch (2019) Apple sent us. Unless you have the money to shell out and require that kind of power, you won't be using the exact same MacBook 2019 iteration of the Pro as us. If you want these results, then prepare to spend a lot for it.
The addition of Intel's latest 8-core processors does make a big difference to the performance of the MacBook Pro 15-inch (2019). If you're considering buying one, we recommend this option, not only for the boost in performance, but also future-proofing as well, as you won't feel the need to upgrade for a substantial amount of time.
See Also: Most Expensive Cruise Ships In The World
5. VOODOO ENVY H171 – $ 8,500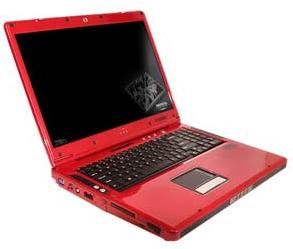 SPECIFICATIONS:
Memory – 600 GB (Three drives).
Screen – 17 inch.
RAM – 4 GB.
Processor – Core 2 extreme.
Graphics –  Twin NVIDIA graphics chipset – GeForce Go 7950
Voodoo, a company hell-bent on out-spec'ing the competition, today announced that its ENVY H:171 has "set new standards for performance notebooks." While we can't completely trust everything some big PC manufacturer says, we can tell you that the 17-inch, widescreen laptop does flash some pretty robust specs. The maxed-out combo features a Core 2 Extreme CPU, a Dual NVIDIA GeForce Go 7950 graphics chipset, 4GB of RAM, and a hard drive capacity of up to 600GB (using three drives).
There are Twin NVIDIA graphics chipset, GeForce Go 7950 and when it was first launched, it indeed created a great stir among the tech geeks. There is no denying that it is one of the best and most powerful gaming laptops out there. The thin laptop is made of sturdy carbon fibre chassis and comes with best-in-class speakers and excellent product performance. External optical drive and HDMI adapter are included in the laptop.
The chassis of the Voodoo Envy is made of carbon fiber, and it weighs 1.7 kg (3.75 lb) and is 1.8 cm (0.71 in) thick all around. The system utilizes the Windows Vista operating system as well as a Linux kernel dubbed "Voodoo Instant On" or "Voodoo IOS." The laptop has often been compared to the MacBook Air for its similar size and specifications. HP claimed it to be the world's thinnest notebook, although this record has now been broken, as it is 0.70 inches throughout, whereas the Dell Adamo is 0.65 inches thick all around.
According to the specifications, its 3-cell Lithium ion battery will provide up to 3 hours and 10 minutes' battery life, depending on usage. The HP Envy line of laptops and other products replaced the Voodoo Envy when HP and VoodooPC merged.
4. EGO FOR BENTLEY – $ 20,000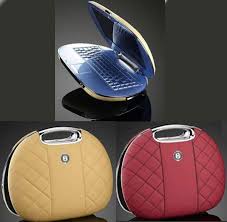 SPECIFICATIONS:
Memory – 160 GB.
Screen – 12.1 inch.
RAM – 2 GB.
Processor: AMD Turion 4 mobile processor.
OS: Microsoft Vista Ultimate.
2 dedicated direct access keys.
The EGO brand that has developed together with the also luxurious car brand Bentley. This laptop matches the vehicles of this firm, decorated by hand with white gold and a quilted leather cover reminiscent of the interior of these vehicles. Of course, if you already have a Bentley, this laptop will be a perfect complement.
Ego for Bentley", which looks similar to the 1999 Clamshem Eyebook, is handmade. There was a black, authentic Bentley diamond-sewing leather in the outer, in which there was a middle, bright white gold between Bentley's logo, in which the notebook was made inside and out, and an underlying chrome handle designed with Bentley's trademark etching Which was called "knurling".
To be able to buy this laptop one must definitely be able to deposit a lot of money or be born with a diamond spoon. It is considered one of the most luxurious laptops due to its high end design. It is the only company in the world who dares to make a different shape for laptops. As the name suggests, it is owned by some selected people of the world only. It has an elegant appearance, outstanding performance, high performance, storage capacity, efficiency of multi-functionality and a rare feature of some of the 12 keys, which provides direct access to many different apps running on laptops. . Webcam, Wi-Fi.
The colour options of the lacquered inside matches the car's most popular exterior paint colours for ultimate suitability. The outside has been trimmed with the finest selection of Bentley leather and finished with the authentic Bentley diamond quilted hide, so it will be designed to exactly match your particular requirements. An ergonomic integrated handle provides true portability and removes the need for an unattractive bag or case. The iconic Bentley etching, known as knurled chrome, is echoed on parts of the Bentley for ego notebook, such as the handle and the sliding doors that cover the access ports and ensures a secure grip and a luxurious feel.
Pure chrome detailing throughout and unique technology on the inside: next to the latest Microsoft Vista ultimate software, a 64 bit processor and a 160gb hard drive, ego for Bentley's elegant design incorporates 12 dedicated direct access keys to make wifi, bluetooth, webcam, media centre and other applications both simple and fast. Each model of the ego for Bentley collection is a limited edition luxury notebook, accentuated by the white gold frames engraved with your ego for Bentley's limited edition number.
"Bentley is delighted with this collaboration that reflects a true design partnership and has produced a highly desirable and unique product", says Julia Mitchell, director of luxury goods & brand extensions Bentley.
3. TULIP E-GO DIAMOND – $ 355,000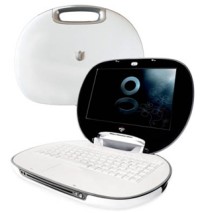 SPECIFICATIONS:
Memory – 160 GB.
Screen – 12-anti-glare WXGA display screen.
RAM – 2 GB.
Processor: AMD Turion
Video Card: ATI Radeon Xpress 200
The Tulip E-Go Diamond notebook is inlaid with solid palladium white gold plates in which thousands (80 carats) of top-quality, brilliant cut diamonds have been pave set with surgical precision. The magnificent end result also incorporates a unique square cut ruby set in both Tulip logos and costs 283,000 Euros (US$355,000).
Without the bling, the E-Go (short for easy going) computer is even more innovative, using overmolding to enable fabrics, leather, wood, and metals to be incorporated into interchangeable, lifestyle-oriented covers that enable the laptop "look" to be changed on a daily basis as a fashion accessory.
The original idea arose to develop a product from the perspective of a woman that at first glance looks more like a fashion accessory than a notebook. The resulting product is an elegant handbag with numerous novel features. The enclosures have been designed and developed for six fabric and leather laptop versions, a foretaste of what will become available in October 2005. In addition to changeable/personalized covers, the product is also expected to feature complementary accessories such as design bags and mice.
Tulip developed the E-Go lifestyle notebook to meet what it sees as a growing tendency towards design and personalization. The laptop is aptly named the Tulip E-Go. It's an 'Easy Going' device that has the ability to reflect the individual personality and mood of the owner by changing the covers. The E-Go utilizes Inclosia's patented mass-production EXO overmolding system technology which is designed to incorporate fabrics, leather and other materials into electronic devices and is most commonly seen in Microsoft's executive mouse with its leather look.
"Tulip has identified a growing tendency towards design needs within the computer industry. The ordinary computer has evolved from a specialty product to a commodity product. Competition in the computer market is driven by specifications and price, with a growing demand of users willing to pay a premium for a personalized design computer," said Huub van den Boogaard , Founder, Tulip Distribution International Holding.
2. UVAGLIO – $ 1 MILLION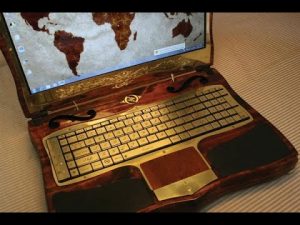 SPECIFICATIONS:
Memory – 128 GB.
Screen – 17 inch OLED screen capable of self-cleaning.
Blu-Ray disc reader
fingerprint ignition
"The most expensive" phrase really suites British brand Luvaglio, as they've stunned us with an entire series of extremely expensive, opulent stuffs already. Here's another thing of beauty and humongous price tags, the most expensive laptop in the world, priced at a whopping million dollars.
This massively expensive gadget comes with an LCD screen measuring 17 inches in diagonal, Blu-Ray Drive, USB connectivity, MP3 player and a solid state drive of 128 GB. The most of this incredibly high price tag is actually not related to performance in any way, having been mostly spent on the detailing. There's a very rare diamond in the power switch for example.
There's going to be quite a lot of fuss and bother if you're willing to buy one, though. You'll have to be invited by the brand's director, Rohan Sinclair, to have yours. It remains to be seen if this will fit the tastes of future buyers though, considering that the laptop doesn't even bring no mind-boggling performance. It just comes with medium performance levels and a heck-load of bling – and that's sort of it.
Even though you'll find way more powerful and faster laptops at dramatically lower prices, this piece comes with exclusivity and value. First it's the brand, which is quite an important factor of the matter, and then there's the value of the stuff it's been garnished with. It is indeed very hard to find a laptop which you can turn on by pressing on a diamond.
1. MJ'S SWAROVSKI & DIAMOND STUDDED NOTEBOOK – $ 3.5 MILLION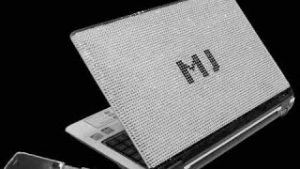 SPECIFICATIONS:
Screen Resolution: 1920 x 1080
Processor: 2.6 GHz Intel Core i7
RAM: 64 GB DDR4 2666
Hard Drive: 1 TB flash_memory_solid_state
Graphics Coprocessor: NVIDIA GeForce GTX 1080
The Ukrainian art studio MJ is widely famous for their creations of exotic and luxurious technical items and other accessories. This company created the most expensive laptop worth an extravagant $3.5 million.
With black & white Swarovski diamonds and gold-plated body, the MJ's Swarovski and Diamond Studded Notebook is the most expensive laptop ever to be manufactured. The mouse paired with this laptop is also studded with the same black and white diamonds. The laptop's hardware has a warranty of 10 years and the jewelry comes with a warranty of a lifetime.
The MJ's range includes expensive versions like the Asus Lamborghini Platinum Crocodile, Acer Ferrari Gold Python, ASUS Eepc VIP Swarovski and Sony Vaio BlackWood. It is mainly black and white diamond and gold plated laptop. It also has snakeskin or croc skin cover, golden mouse and some other very luxurious electronic gadgets.
Powered by i7-8850H which has the base frequency of 2.60 GHz, one of the prominent features of MSI is the fact that it has this processor has the 6-MB Smart Cache.
Not just that, this gaming laptop processor has a maximum turbo frequency that operates at 3.60 GHz which is the most potent frequency for gaming laptops.
MSI GT83 TITAN-027 laptop is equipped with 64 GB DDR4 2666, that has the best memory to handle all the memory capacity of the system; especially that of games. As the RAM is processed through 34-stage channel process to ensure the best quality and that's the reason why it has been added to this MSI Laptop.
When it comes to the hard drive, we all love having the maximum storage on our gaming laptop. The MSI GT83 TITAN-027 laptop has a 1 TB flash memory solid state drive. Yes, 1 TB storage is enough space to install the games you love and the necessary software to run them. You won't get your gaming laptop, the MSI GT83 TITAN-027, while playing the games or loading as its hard-disk is offered in a solid state that is the storage hardware offered in the market so far.
The best and amazing feature that you'll love about the MSI GT83 TITAN-027 laptop is the graphics coprocessor,  the NVIDIA GeForce GTX 1080. You can experience and can feel the ultimate graphics that this GTX 1080 gives. The GTX 1080 is one of the best graphics processors; GPU unit, in 10th series of NIVIDA  gives almost 3-times more performance than the previously launched graphics units.