Restaurant furniture sets the atmosphere for guests' experiences at your establishment. Matching up your dining area with stylish pieces can improve customer satisfaction and boost profits simultaneously.
Restaurant tables come in all shapes and sizes, but they must be able to comfortably seat enough people for each meal you serve. Depending on the available space, you may also wish to add booths or benches for additional seating options.
Tables
Tables are a staple of commercial restaurant furniture and they come in an assortment of shapes and sizes. Most tables are round, but square or rectangular options also exist. Many tables are designed for two people but can accommodate four or six if necessary.
When opening a restaurant, it is essential to select the appropriate furniture for the space. Not only will this guarantee guests are comfortable while they dine, but it also meets all ADA regulations. You can click the link: https://www.ada.gov/ for more information about the Americans with Disabilities Act.
When selecting furniture for your restaurant, the type of ambiance you wish to create is key. For instance, if you plan on opening a cafe, wooden tables and chairs may be ideal as they lend a cozy, rustic atmosphere.
Conversely, if you are opening a more contemporary restaurant, glass and metal table options might be beneficial. These pieces will add an edgy, contemporary aesthetic to your dining area.
Commercial restaurant furniture is typically constructed of strong and lightweight materials that make for easy cleanups. Available options include wood, metal and plastic in a range of colors and finishes.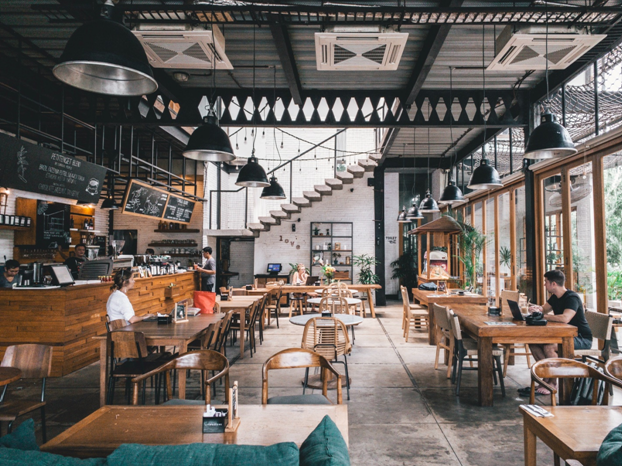 Chairs
Chairs are an essential piece of restaurant decor available in a range of styles to suit any venue. Not only do they add visual interest to your dining room, but they can also give patrons a more memorable experience. Choosing the right commercial furniture for restaurant involves selecting the right style as well as the right material. A professional can help you match your décor to the right furniture.
Chairs come with a range of options, such as wood or upholstered seats, metal frames, and different back designs. Plus they come in an assortment of upholstery patterns and colors so you can mix and match with your decor.
Contemporary chairs are an excellent choice for restaurants with an upscale, modern or transitional aesthetic. These sleek metal frames combine comfortable vinyl upholstery to provide a versatile option that can be tailored to fit into many modern themes.
Ergonomics and functionality are other essential factors to take into account when selecting a chair. These features guarantee guests are comfortable, can move around easily during their visit, and thus reduce the likelihood of injury.
Durability is another important consideration when selecting a commercial chair, particularly for busy establishments that receive many customers throughout the day. Whether serving family meals or diner-style food, heavy use can quickly break down chairs and require replacement. Opt for chairs with sturdy frames and well-constructed seats and backs which will last longer and require less upkeep.
Cozy, soft and inviting are other qualities to look for when choosing a chair. These features can make your dining area more welcoming and comfortable for customers, increasing the number of visits they'll return. Visit this site for help visualizing these elements.
When selecting a chair for your restaurant, it's essential to understand who will be using it. Doing this helps narrow down your choices so that you make an informed decision for your establishment.
Booths & Benches
Booths and benches are essential restaurant furnishings that provide customers with comfort and convenience, allowing them to enjoy their meals in peace.
Commercial dining furniture offers a wide range of booth styles, shapes, and materials. Choose from single and double booths to half-circle, three-quarter, or L-shaped options.
In addition to seating, booths can also be utilized for storage in your restaurant. They come equipped with a compartment that keeps food and other essential items organized at all times.
These compartments can be an ideal solution for restaurants with limited storage, as they can hold anything from napkins and silverware to pots and pans. Furthermore, compartments help ensure your staff remains organized and prepared for their next task.
Choosing the right furniture can help take your restaurant to the next level.