List of Top 30 Fastest Bikes in the World Complied by "Fabulaes"
Bikes for the Bikers are just like the Paris for the Lovers. They just can't choose any other thing for their expressions. Bikers are always in search of the speed beauty of these "Wheel Chicks". Here we have compiled a list of World's top 30 fastest bikes.
30. Honda VF1000R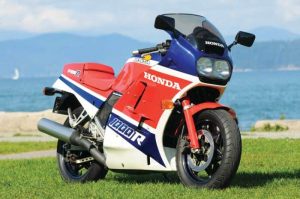 Honda introduced the VF1000R in the European Market in March 1984, with Max Speed of 150 mph (240 km/h). The main inspiration behind the creation of VF1000R was that Honda wanted to design a piece that can compete with commentators having innovative and modern technology.
29. Ducati 1098S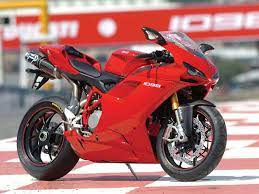 Ducati is famous for producing beautiful sport bikes since the 1940s. In 2007, the company launched their newest 1098S model with Max Speed of  169 mph (273 km/h). It has a powerful 1099cc twin cylinder engine.
28. BMW K 1200S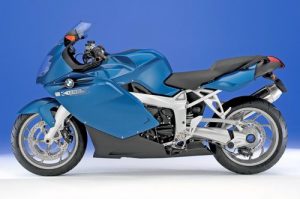 The German Automotive giant BMW launched a specially designed K series motorcycle named K1200S in 2004 with Max Speed of 174 mph (278 km/h). The K1200S has an inline four-cylinder liquid cooled 1157cc engine. It can reach 100 km/h in merely 3.0 seconds.
27. BMW K 1300S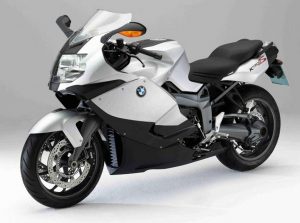 BMW launched it in October 2008 and was a substitute for the former K1200S that had been in production since September 2004. When you start the engine, you will be welcomed with a pleasant, hexagonal tube throaty sound. The BMW K1300S can reach a peak velocity of over 174.5 mph, thanks to its sporty lineage & lightweight design.
26. Aprilia RSV 1000R Mille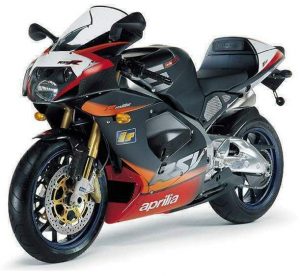 Aprilia is an Italian motorcycle company and a familiar figure in the racing world. Aprilia produced the RSV 1000R Mille with Max Speed of 175 mph (281 km/h). Its 998cc V-twin engine was manufactured by Rotax an Austria based company.
25. Kawasaki Ninja ZX-10RR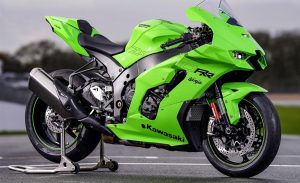 Released as a special homologation version of Kawasaki's already-highly-potent ZX-10R superbike, the ZX-10RR takes Team Green's liter-sized flagship to the next level. Four-banger with a bi-directional quick shifter, electronic throttle valves, launch control mode, a redesigned head, and titanium connecting rods with Max Speed 186mph.
24. KTM 1290 Super Duke R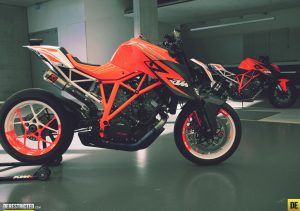 It is highest performance model is currently its 1290 Super Duke R. Powered by an even more refined version of the Austrian outfit's LC8 V-Twin, the latest full-size Super Duke R packs an all-new Chromoly tubular space frame and revised composite sub-frame. It has max speed 186mph.
23. Honda CBR1000RR-R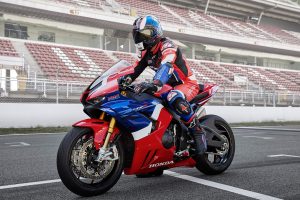 After spending several models years having its flagship superbike being viewed as long in the tooth, Honda is aiming to re-establish itself in the superbike sector with the all-new CBR1000RR-R Fireblade SP. Deriving much of its component from Honda's premier class-dominating RC213V MotoGP bike, the extra-R SP-spec packs an advanced, modern electronics suite, an ultra-potent 215hp engine with max speed of 186mph.
22. Kawasaki Ninja ZX-14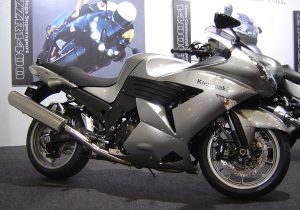 The Kawasaki Ninja Zx-14 was first launched at the 2005 Tokyo motor Show. The ZZR14 is incorporated with the 1441cc 4 cylinder with Max Speed of 186 mph (299 km/h), DOHC, engine, capable of accelerating from 0–60 mph in 2.5 seconds.
21. Suzuki GSX-R1000R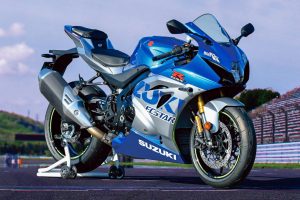 GSX-R1000, which is an even more track-oriented take on the already-performance-focused machine. The base model like the variable valve timing, six-directional, tri-axis IMU, advanced twin-spar aluminum frame, and Showa race suspension setup.It has max speed 186.5mph.
20. MV Agusta F4 1000R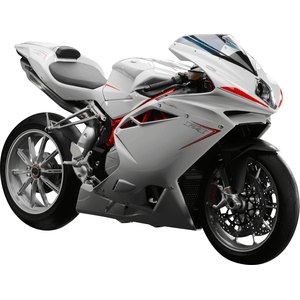 MV Agusta F4 1000 R was the second mass produced bike of F4 1000 class which was released in 2006 with Max Speed of 187 mph (299 km/h). It is powered by a 998cc liquid cooled 4 cylinder engine with 16 radial vales. It has major upgrades from the previous F4 1000S bikes.
19. Yamaha YZF R1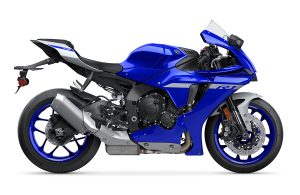 Yamaha YZF R1 was manufactured in Japan. It has a six speed transmission and multi clutch. It was first launched in 1999 and the present R1 saw only minor changes. The engine has forward inclined parallel 4 cylinders with Top Speed of 186 mph (300 km/h).
18. Kawasaki Ninja ZX-12R
The Kawasaki Ninja Zx-12R was a sport bike produced from 2000 to 2006. Kawasaki intentions to compete with the Suzuki's Hayabusa led to the launch of the ZX-12R. It has a 1199cc inline four cylinder engine with Max Speed of 187 mph (301 km/h).
17. Honda CBR 1100 XX Blackbird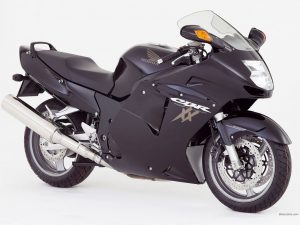 Honda CBR 1100 XX Blackbird was produced from 1996 to 2007. It was solely intended to compete with the Kawasaki Ninja ZX-11 for the fastest production motorcycle in which it succeeded after two years of its launch. The Honda CBR 1100 XX has a 1137 cc, 4 valves per cylinder and liquid cooled engine with Max Speed of 190 mph (305 km/h).
16. Suzuki Hayabusa GSX1300R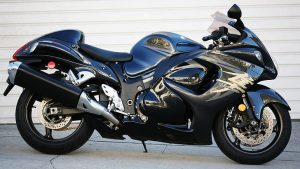 The Suzuki Hayabusa GSX1300R or just simply Hayabusa is manufactured by Suzuki since 1999. After launch it immediately acclaimed the world's fastest production motorcycle, currently it is the sixth fastest bike in the world of all time with Max Speed 188-194 mph.
15. MV Agusta Brutale 1000 Serie Oro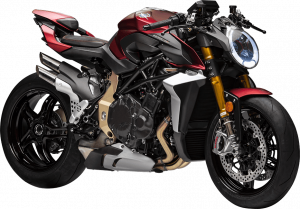 Before MV Agusta rolls out a new production model in mass, it releases a small batch of ultra-high-end "Serie Oro" versions, and shortly before releasing its latest naked flagship: the Brutale 1000RR, MV Agusta launched 300 units of an ultra-exclusive Serie Oro-spec Brutale 1000. It got max speed of 188.9mph.
14. BMW S1000RR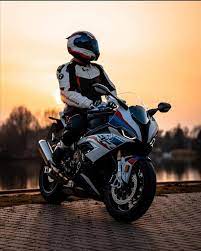 With numerous model updates culminating in the fully-redesigned model for 2020. The first-ever BMW motorcycle offered with an optional M-Performance package, the 2020 S1000RR ditches its predecessor's asymmetrical headlight setup with max speed of 192mph.
13. Suter Racing MMX 500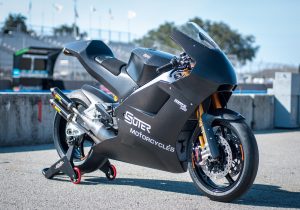 one of the most unique motorcycles produced in recent times: a 192.6mph+, 195hp, 576cc, fuel-injected, two-stroke, V-4 with all-carbon-fiber bodywork and top-of-the-line componentry, all in a package that tips the scales at just 280lbs wet. Entirely built by hand and equipped with custom Akrapovic expansion chambers and two-stroke pipe.
12. Ducati Panigale 1199 R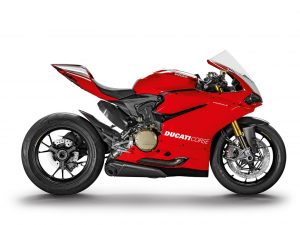 Ducati unveiled the all new Panigale 1199 R for the first time at the 2011 Milan motorcycle show. Its internal frame is made up of titanium and carbon fiber. It is equipped with an 1199 cc liquid cooled V-twin engine which delivers 195 horsepower with Max Speed of 202 mph (325 km/h).
11. Aprilia RSV4 1100 Factory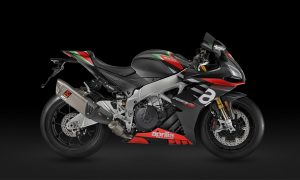 RSV4 with max speed of 198.8mph is incredibly potent in its base trim, the Noale firm nonetheless offers a top-of-the-line, race-derived Factory-spec of the Italian V-4 with a host of high-end upgrades including carbon fiber bodywork and a carbon heat-shield for its Akrapovic race exhaust, and integrated carbon fiber MotoGP-style aerodynamic winglets, among many others.
10. Ducati Panigale V4 R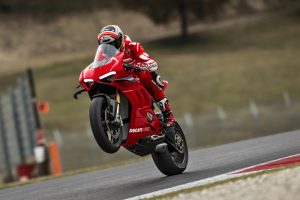 This machine with max speed of 199 mph is one of the best-performance motorcycles on earth, not just based on its top speed and power output, but on its ability to fire-off insanely impressive lap times. The V4 R's engine is also Ducati's most powerful powertrain of all time.
9. Damon Motorcycles Hypersport Premier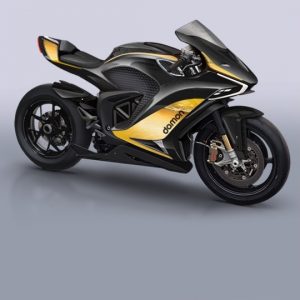 The Hypersport Premier will be one of, if not the highest-performing electric motorcycle on the market, with a claimed 200-mile range, three-hour charge times, a sub-3-second 0-60mph time, and integrated GoPro-style cameras and a 4G-connected smart auto-pilot system, all in a sub-440lb package that offers 200hp outputs and a supposed top speed of 200mph.
8. Ducati Superleggera V4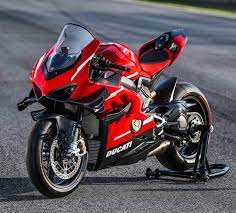 Having max speed of 200mph Superleggera V4, taking the 234hp mill from the V4 R and stuffing it into a chassis made entirely from carbon fiber, before adorning it in all-carbon bodywork, and outfitting it with all-carbon wheels. The liberal use of carbon fiber also adds a degree of lightness that enables the Superleggera to achieve even higher speeds than the V4 R. Italian for "Super Light", the Superleggera V4 is the epitome of two-wheeled exotica and moto-exclusivity.
7. Kawasaki Z H2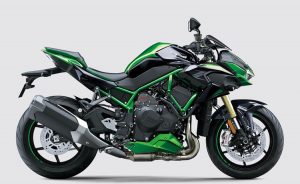 Kawasaki decided to add to that lineup with a forced-induction version, taking the supercharged four-cylinder engine from the NINJA H2 and dropping it into a new, naked package. With the benefit of a factory-installed supercharger, the Z H2 manages to deliver some insanely-impressive performance capabilities with max speed of 202mph.
6. PGM 2.0 Liter V8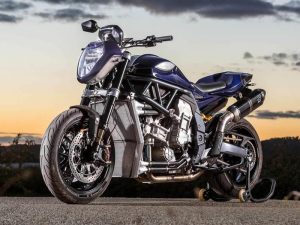 A V8 powered motorcycle built by an Australian chap, Paul Maloney, this machine is the most powerful production motorcycle in the world. At the heart of it, is a powerplant that has been initialized by wedging two mid-2000s' Yamaha R1 mills to feature one 90-degree 1996cc V8 engine pumping out a massive 334 hp. The engine gets Ride-by-Wire throttle, and a six-speed sequential gearbox that takes the top speed 209mph.
5. BMW HP4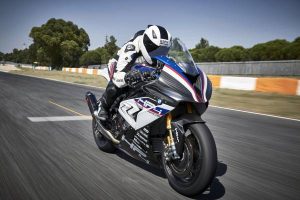 The powertrain on this machine is an engineering feat and is handcrafted by the same chaps who work on the WSBK motorcycle making 215 hp. GP spec Titanium Ohlins and Brembos are a regular affair. A machine making use of all exotic and opulent items kept away for track-focused hooning that spares no expense. At 217 mph top speed, it is a sensual experience to only a select few who can afford such an extravagant phenomenon.
4. Lightning LS-218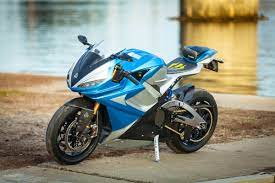 The Lightning LS-218 is an electric bike manufactured by the Lightning Motorcycle since 2011. In 2013 it became the fastest electric super-bike after hitting a record speed of 350 km/h at Bonneville Speedway. With Max Speed of 218 mph (351 km/h) it can reach 100 km/h in just 2 seconds.
3. Kawasaki Ninja H2R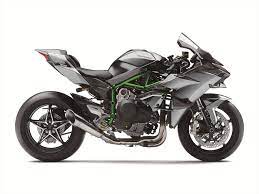 The Kawasaki Ninja H2R is the current fastest production motorcycle in the world. First produced in 2015, the Ninja H2R has a centrifugal-type supercharged 998cc inline-4 DOHC engine, providing 310 hp at 14,000 rpm with Max Speed of 210 mph (340 km/h).
2. MTT Turbine Superbike Y2K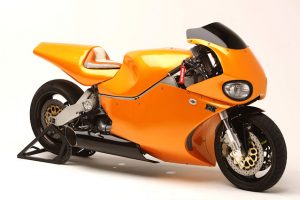 The MTT produced Y2K Super-bike is the first ever turbine powered street legal motorcycle. Earlier models were powered by Rolls-Royce-Allison Model 250-C18 turbo-shaft engines producing 320 HP and 425 ft/lbs of torque with Max Speed of 250 mph (402 km/h).
1. Dodge Tomahank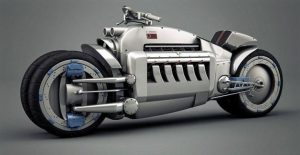 We have placed it as the fastest bike because of several reasons. Firstly, we are not saying that it is actually the fastest and most powerful bike, although it looks so, it's just hypothetical. Secondly, Dodge claimed that the bike can reach the max speed of 300 to 420 miles per hour.